Will we all be vacationing in a flying hotel at some point? At least that is the idea of ​​designer Tony Holmsten, which Hashem Al-Ghaili presents on his YouTube channel. But the feasibility still needs to be worked on.
---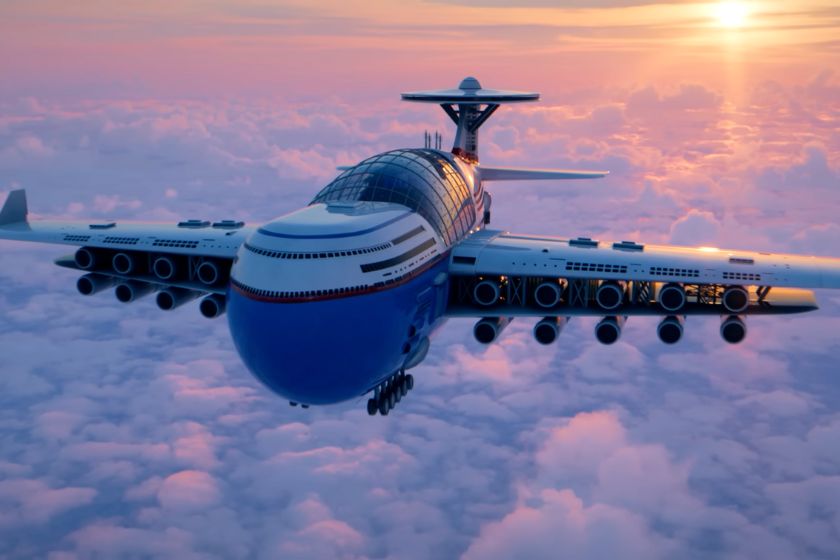 ---
The so-called "Sky Cruise" looks like a mixture of airplane and cruise ship. Specific dimensions are not mentioned, but there should be enough space on board for up to 5,000 guests. In addition, the flying hotel offers everything a vacationer's heart desires. From swimming pools and fitness studios to restaurants and cinemas, everything is there. Even a shopping center is planned.
Under a gigantic glass dome and on various viewing platforms, guests should be able to enjoy an unobstructed view into the distance. So majestic sunrises and sunsets, huge cloud cover and nocturnal northern lights should be part of the program. By the way, there shouldn't be a pilot. Instead, an AI, which is said to have a knack for flying around disturbing turbulence, takes over the controls.
---
---
Just an idea
The highlight, at least from a technical point of view, is inside the flying hotel. "Sky Cruise" is powered by 20 electric motors, which in turn are powered by fusion energy. This would make climate-friendly travel possible. Provided that there should be the appropriate technology for it at some point. We are still a long way from that at the moment.
Accordingly, it is hardly surprising that this is not a serious concept. Millions of large investors should also not be attracted. It's just a wacky idea that's been shared on YouTube — and has been clicked on more than two million times.